Let's get real for a moment – everyone knows what a plastic box looks like. However, often only industry experts are aware that this genre – in addition to the typical universally useful "folding boxes" – also includes numerous special designs for packaging precision tools. We offer an enormous range of plastic packaging boxes, so to make it easy to find your way around, here's a brief overview of our plastic box portfolio.
Our high-quality plastic boxes are the perfect home for all manner of products, from cutting inserts and micro tools to computer components. Boxes from rose plastic are both practical and safe. And as promotional and sales packaging, they also put your product perfectly in the spotlight at the point of sale. It's actually pretty amazing what our little boxes can do…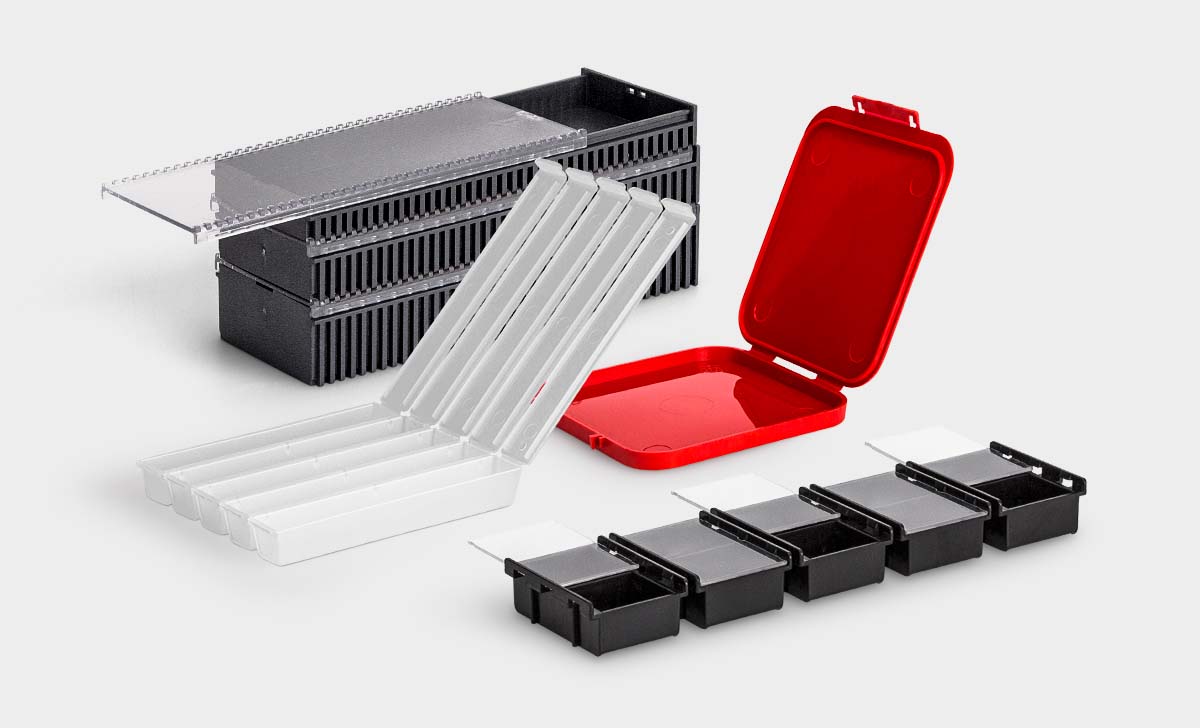 From true all-arounders to proven specialists: We've got the right plastic box for every purpose
Plastic boxes are usually designed for storage and transportation. Our standard range includes an enormous number of plastic boxes in various shapes, sizes, and designs: square, rectangular, transparent or translucent, colored, etc., etc., etc. – in other words, we have the perfect plastic box for almost every packaging task. But what happens in the unlikely event that our standard range doesn't offer what you need? No problem! Then we'll create a customized plastic box especially for you – tailored perfectly to your products! Talk to us, we'll be happy to advise you!
Plastic packaging boxes – meet our all-arounders
Many of our plastic boxes such as ConsumerBox, InsertBox Connect, and UnixBox are extremely flexible and versatile solutions thanks to their wide range of designs. As true all-rounders, they are the ideal packaging for countless different items – there's scarcely a single product out there that can't be individually packaged, optimally protected, and attractively presented at the point of sale inside one of our plastic boxes. In addition, we also offer a range of special solutions.
Among the most common varieties are our universal folding boxes with snap-on or hinged closures: Our ConsumerBox and our UniBox come in both square and rectangular versions. Designed as universal boxes, they are popular packaging solutions in a wide variety of areas – for example, as highly practical and economical packaging for cutting tools and industrial components. In addition, they are commonly used by tool retailers and hardware stores, e.g. as packaging for small parts or sets. And last but not least, their large printable surfaces and transparent material makes them ideal for use as promotional and sales packaging for a vast range of different products.

Our product range includes plastic boxes for virtually any application. But what happens if you have very particular requirements that our products don't quite meet? The answer's very simple – just talk to us! A solution can usually be found by putting our heads together, because our experts know all about the various packaging solutions and the numerous ways they can be customized at a reasonable price. Suitable inserts, foam inserts, material additives, or certain finishes can be used to achieve the desired functionality and properties in our existing packaging products – without needing to reinvent the wheel.

And if that's still not enough, we'll gladly work with you to create your own customized plastic box. We have a team of experienced professionals to help us here – our industrial designers, engineers, and our customer advisors will work together in a professional, efficient, and economical manner to help you create your ideal plastic packaging box. In other words, whenever there are very specific requirements for the packaging design, geometry, and functionality, one of our customized plastic boxes is usually the best solution.

By the way, our customized packaging can be designed to perfectly showcase your products and brand, thus ensuring it's always easily distinguishable from the competition. Just ask us for some examples of our customized packaging solutions.