With our accessories, we offer a host of options to additionally protect and secure your products. Alternatively, our versatile hanger systems enable optimal presentation of your products at the point of sale.
Despite the fact that our packaging tubes and boxes are already extremely versatile, they can actually be made even more flexible – with our range of useful and well-designed accessories. Whether you need additional protection for your products, or just want to ensure they are perfectly presented at the point of sale, our plastic protective caps and Eurohole hangers open up a wealth of optimization possibilities.
The perfect addition: accessories for the BlockPack
For example, for our BlockPack plastic tubes we offer a hanger, our EndCaps, and also the ToolHolder – three accessories that optimally complement this popular packaging tube. The hanger can be clipped onto the BlockPack's outer part or the base of the inner part. The BlockPack EndCaps provide additional protection against sharp objects. Made from impact-resistant, unbreakable ABS, they prevent the contents from piercing the packaging and thus further increase safety. The EndCaps can be attached to both the outer and inner parts of the BlockPack.
Our ToolHolder is an extremely versatile option. When combined with an appropriately sized BlockPack, the insert becomes a piece of high-quality individual packaging that provides optimum protection for PSC, KM, or HSK tool holders. Our ToolHolder also ensures a secure fit for your tool holders in both the axial and radial direction. It is ideally combined with the length-adjustable BlockPack with ratchets and TwistLock mechanism. This allows precise adjustment to the height of your tool holders, removing the need for an additional foam insert.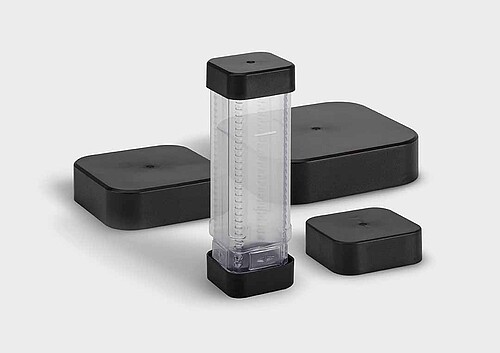 BlockPack EndCaps
End caps for additional protection of sharp objects
Go to product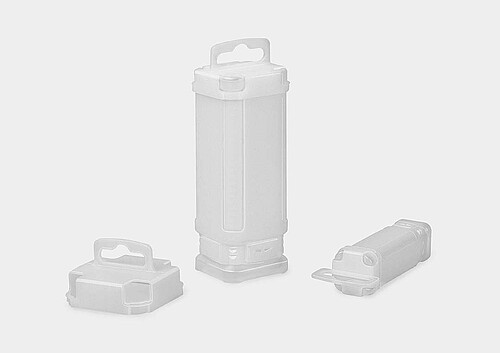 BlockPack Hanger Cap
Separate hanger caps for the BlockPack packaging tubes
Go to product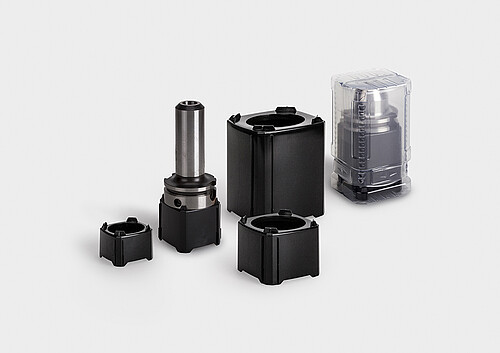 ToolHolder
Safer transport of tool holding fixtures
Go to product